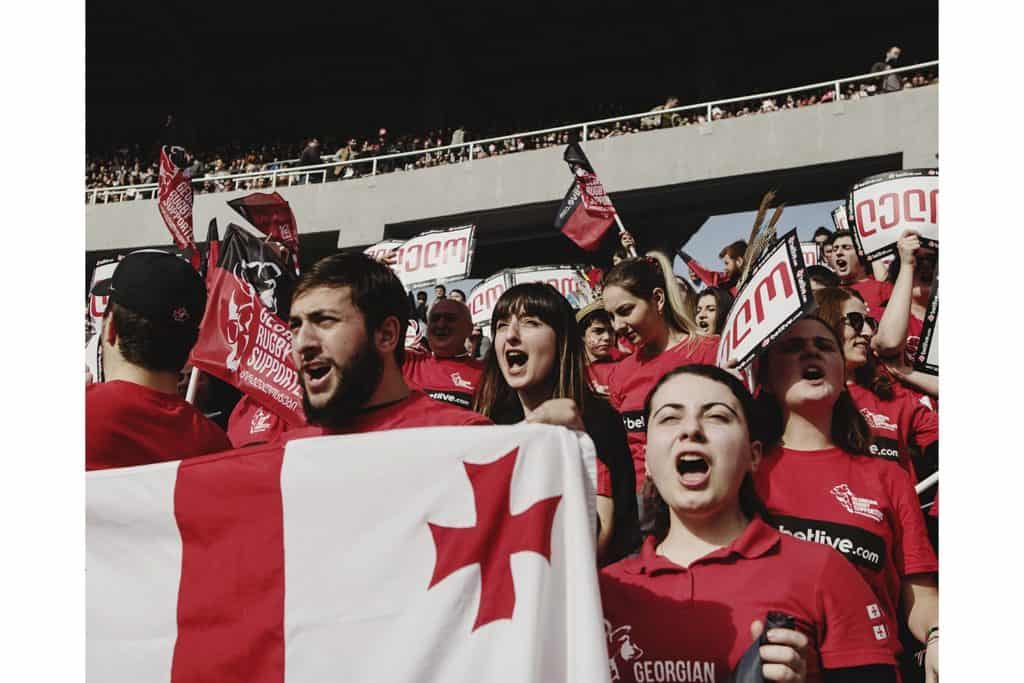 Georgia is currently ranked 12th in the world in rugby. The national team regularly plays in front of 55,000 fans in a sold out Lokomotivi Stadium in Tbilisi. How did this Caucasian nation of just 3.72 million who many rugby fans wouldn't be able to pick out on a map come to be ranked ahead of Italy, Tonga and Samoa? It is time to look at the rise of rugby in Georgia.
Why is rugby so popular in Georgia?
Rugby is so popular in Georgia because it is similar to a traditional Georgian sport known as Lelo. The sport has also benefited from large financial support by billionaire Bidzina Ivanishvili who has spent millions building facilities, attracting sponsors and getting the sport shown on TV.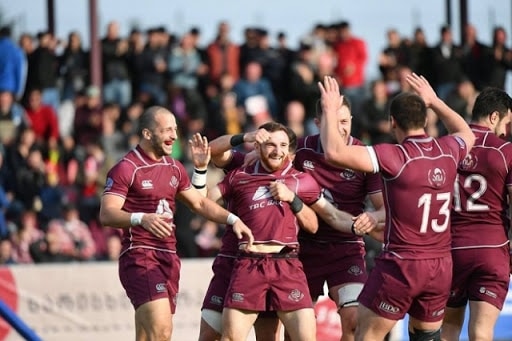 Georgians' appetite for rugby has been attributed to their love of a similar game, known as Lelo. Lelo is a medieval folk sport that involves two sides attempting to move a heavy ball across a field to a certain place, called the Lelo. The two sides could use any method to transport the ball including passing, kicking. To prevent the attacking side progressing the defending side would tackle and trip.
The sport would typically be played between two rival villages. There were no set limits on the number of players with villages putting as many men as they could onto the field. There was also no stipulation that the match had to be played on a field; some matches would involve teams having to run through forests, climb mountains and cross rivers.
The local Orthodox priest would referee the contest and whichever side won was said to receive blessing from God for a bountiful harvest.
The connection between Lelo and rugby can still be found in Georgia as a try is called a Lelo in Georgian and the national side is nicknamed the Lelos.
Georgia's love of team contact ball sports served as a great foundation for rugby to be built upon and it is not surprising that the sport's popularity has exploded in Georgia.
It wasn't just Lelo that helped turn the modern nation of Georgia into rugby fanatics, the Soviets also played their part.
During the 1950s and 1960s rugby began to take a foothold in Georgia with the first clubs being established. Georgian students returning from Russia who had learned the game at university returned home and were keen to keep up their newfound hobby. The game jumped in skill level when a French Armenian by the name of Jacques Haspekian began teaching his flashy French rugby skills to eager Georgian players.
Georgian teams quickly became fierce competitors with clubs such as Dinamo Tbilisi, Locomotivi and Kutaisi winning Soviet championships. Georgians were always over represented in the Soviet side with sometimes up 9 of them making the squad, not bad for a country of 3 million.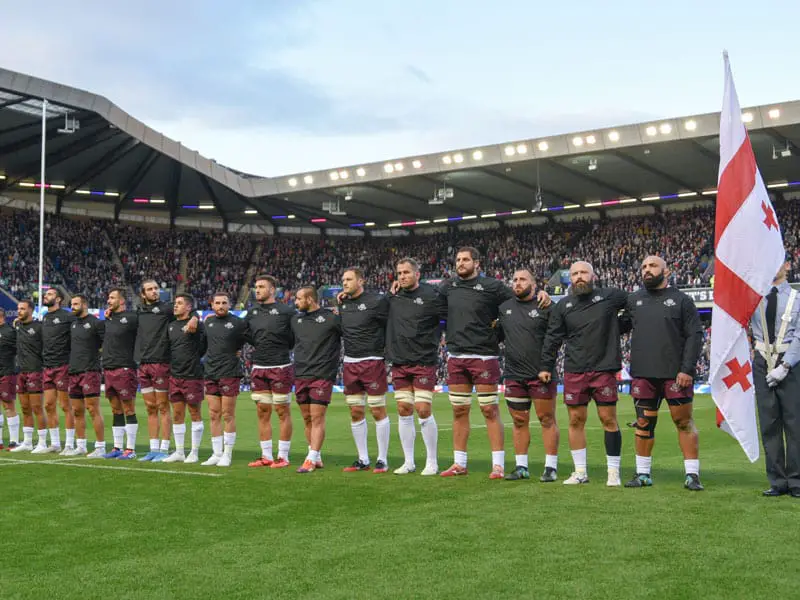 After the collapse of the Soviet Union in the 90s rugby largely collapsed in Georgia as the country was thrown into a terrible financial situation. 
There were some very dark days for Georgian rugby from the late 90s to the mid 2000s. However, the game saw a surge in popularity after billionaire Bidzina Ivanishvili started pumping millions into the game and national side head coach Claude Saurel got his athletes playing professional rugby in France.
Georgian prop, Anton Peikrishvili explains how Saurel was able to quickly improve the quality of Georgian rugby. Peikrishvili said, "Saurel through his contacts, he arranged for a lot of our better players to play club rugby in France. Every player that went improved and that strengthened the national team".
Bidzina Ivanishvili's impact on Georgian also can't be understated. Ivanishvili has spent big on Georgian rugby but the investments by the metal magnate appear to be paying off as rugby matches are shown on live TV, Georgian players appear in magazines and online papers and major companies are sponsoring the side.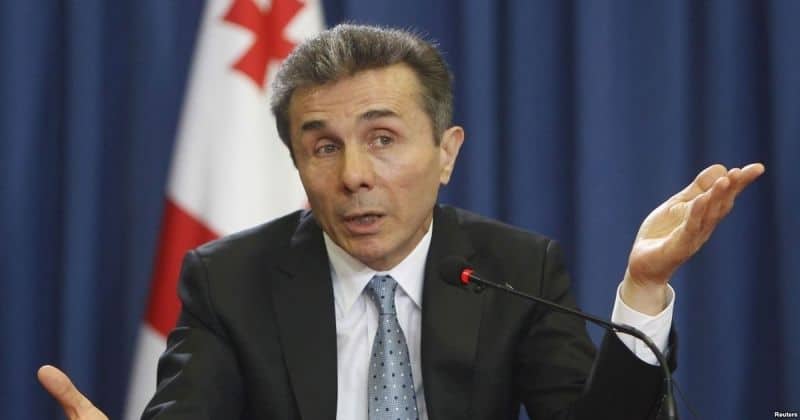 The Georgian players now had the funding to become full time rugby athletes and had the ability to learn from and play against world class rugby players week in and week out in France. These two factors took Georgian rugby to new heights.
The result was the Georgian side started winning. Georgian people are fanatical about their love for their nation and they love to see their fellow Georgians doing well on the world stage. 
After defeating Tonga and Namibia in the 2015 world cup and securing automatic qualification for the 2019 world cup rugby's popularity in Georgia soared. Rugby is now a major sport in Georgia and ranks only behind football in terms of popularity. 
The national side routinely runs onto the pitch of Lokomotivi Stadium in Tbilisi to screams of 55,000 fans. Rugby is shown on TV and has attracted major sponsors. Georgians love a winner and if the side continues to do well the sport is only going to grow and become more popular.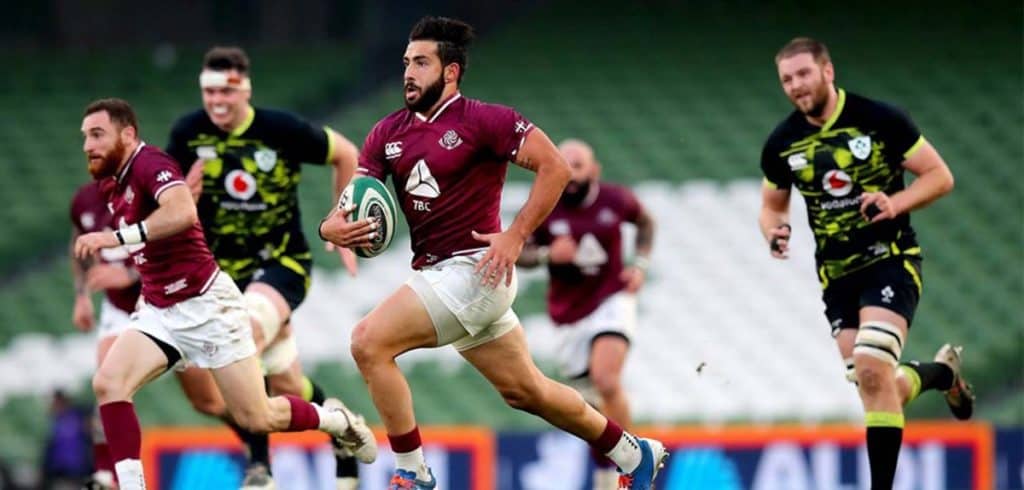 Georgia's rugby future appears to be in safe hands as Bidzina Ivanishvili has built 12 training bases and academies where thousands of young Georgians are dedicating themselves to becoming future rugby stars.
Georgia's head coach, Milton Haig who hails from New Zealand said, "We've got more and more kids getting into the game and watching our 14, 15 and 16-year olds, it is scary. It is like watching the All Blacks coming through".
Conclusion
To the outsider the popularity of rugby in Georgia may appear to be an oddity. However, when you factor in the similarities between rugby and Georgia's traditional sport of Lelo, Georgia's rugby success during Soviet times and the sport receiving generous support from billionaire Bidzina Ivanishvili it starts to make sense. 
Above all else Georgians are a very proud people who love their country. They fanatically support Georgians who achieve international success and after Georgia's triumph at the 2015 world cup rugby has solidified itself as a major sport in the small but mighty Caucasian country.