Rugby players are known for being big and strong. However, there are some players that separate themselves from the pack and are known for possessing incredible amounts of strength which strikes fear into their opponents. It's time to look at the most fearsome 6 Nations players.
Who Are The 3 Biggest And Strongest 6 Nations Rugby Players?
The 3 biggest and strongest 6 Nations rugby players include Andrew Porter known for his 350kg squat, George North and his 16 inch biceps and Sam Underhill famous for smashing out 30 pull ups in a row.
Andrew Porter Is Likely The Strongest Rugby Player In The World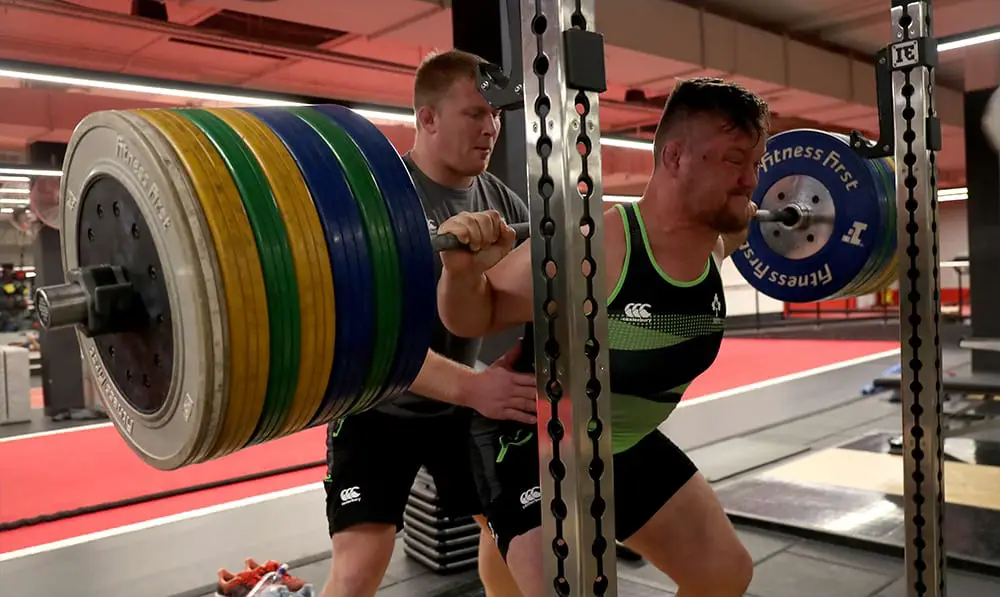 Andrew Porter, the Irish prop is known for his freaky strength. At the age 20 in his first year of professional rugby he squatted 350kg and according to teammates made it look easy. He stood up like it was an empty bar said the Leinster strength coach.
Porter isn't just known for his crazy leg strength, he also isn't too bad at bench pressing. Porter can bench press close to 200kg and has hit 170kg for a triple. It won't be long until the young Irishman is repping out 200kg.
To round out his impressive powerlifting total Porter is regularly deadlifting over 300kg. His best is 330kg.
There must be something in the water in Ireland because Porter's front row partner in crime, Cian Healy says he has a higher bench press and is only slightly behind his junior teammate in the squat department. It seems Ireland's scrum is in safe hands with these two imposing figures leading the charge.
Good luck to his opponents who have to try and stop him on a rampaging run or his opposition prop who somehow has to withstand Porter's leg drive at scrum time.
The scary thing is the Leinster prop is only 25 years old. In the future we could see him squatting close to 400kg and benching well over 200kg. These are elite levels of strength that few full time powerlifters can match.
It would be interesting to how much Porter could lift if hung up his rugby boots and focused solely on weightlifting and strength training. I think there is no doubt he would medal at the world championships and maybe even break some records.
George North Has The Unmatchable Combo Of Strength And Speed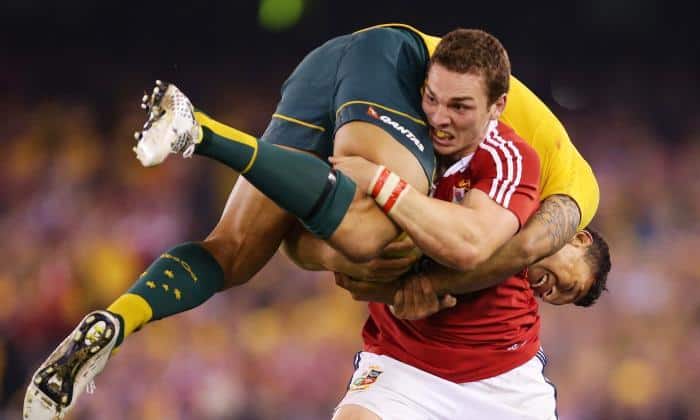 Standing at 1.93m and weighing over 100kg George North is a very imposing figure. The giant Welshman doesn't just have the size he also has the strength and speed to match his Goliath like frame.
The huge winger can bench press 160kg with ease which is more than many of his forward teammates can manage. He can bench 100kg for over 20 reps without stopping. With numbers like those, it starts to make sense how North managed to develop 16 inch biceps which can rival many bodybuilders.
While his upper body strength stats are impressive his lower body feats of strength are even more surprising. The Welsh winger has squatted over 260kg which is just crazy. How many other wingers on this planet can squat anywhere close to that?
North is a huge fan of leg exercises. He believes they are the secret to his speed and explosiveness. He enjoys Bulgarian split squats, back and front squats.
Since turning professional North has turned himself into a beast and put on over 25kg of pure muscle. He hasn't let that extra bulk slow him down as he is still one of the fastest players in world rugby, running the 40m sprint in 4.97 seconds not bad for an almost 110kg winger.
Sam Underhill Is A Beast Who Is Famous For His Big Hits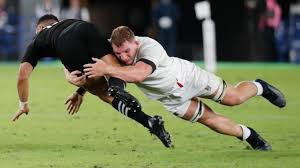 Watch Sam Underhill running around the pitch for Bath or England and you will quickly realize how strong and powerful the 24 year old flanker is.
He makes seasoned professional rugby players look weak as he picks them up and drives them back in tackles or bumps off defenders as he pierces the line. And good luck trying to drive him off the ball when he gets himself set its like running into a fridge.
Underhill loves to squat. He is hoping to hit the 300kg mark before his career is done. Currently his best over 250kg. Underhill thinks the secret to his big hits that have been known to send his opposition flying backwards is his leg strength. The English flanker enjoys incorporating all sorts of different squat variations into his training.
When Underhill isn't squatting he is building his back with his second favorite exercise, pull ups. Underhill loves to throw on a weighted vest and smash out pull ups. His best is 30 pull ups in a row.
Underhill is a big believer in the power of having a strong core. He says that as rugby is an all over body workout you need your core to be highly developed so your body is highly responsive can generate maxium power a moment's notice.
To develop his core Underhill performs different variations of the plank with and without weight. Although he doesn't enjoy these exercises he has found they have lifted his on field rugby performance.
There you have it 3 of the biggest beasts and strongest players in the 6 Nations and the world are Andrew Porter, George North and Sam Underhill.