As NFL players are some of the most elite and highly paid athletes in the world you would expect them to be training for hours everyday and putting themselves through superhuman workouts, but is that really case? In this article we are going to breakdown how NFL players practice, for how long and on what days!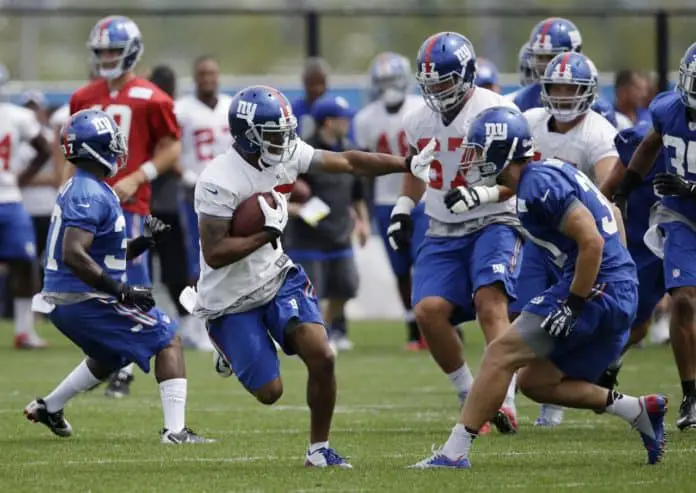 Do NFL Players Practice Everyday?
NFL teams practice everyday except Tuesday which is a scheduled day off. However, Monday training after a game is light and Saturday practice before a Sunday game is only a 1 hour walk through.
Let's look at a typical NFL training week from Monday, following a game all the way up to Saturday in preparation for a Sunday showdown!
What Does A NFL Monday Practice Look Like?
NFL players start Monday morning with a strength workout, then watch film and end the day with a 2 hour practice field session where they go over the key mistakes that were made in the previous game.
NFL practice starts early on Monday morning as players report to trainers to receive treatment before they head to the gym for a weights workout. In season weightlifting workouts are all about ensuring NFL athletes maintain their size and power throughout the season.
NFL players typically wrap up their weightlifting session around 11 am and then head to a series of meetings. NFL athletes start with a team meeting before checking in with their position coaches. During these meetings they study tape and go over what worked and what didn't during the last NFL game.
Once the 2 hour meetings are wrapped up it is time to hit the practice field. Monday is a non-contact session and the team will run through simulations of situations they messed up during the game. This practice field session will last for around 2 hours and will finish with a little conditioning at the end.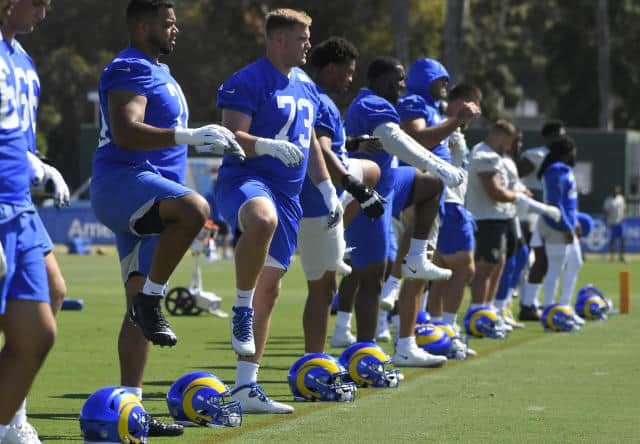 What Does A NFL Tuesday Practice Look Like?
Tuesday is a day off and there is no scheduled NFL practice on this day. NFL players are not required to report to the training facility on Tuesday. However, many athletes opt to run their own private workouts.
During Tuesday it is the NFL coaches who are working overtime to come up with an effective game plan. While the brainstorming is going on NFL players get some time to chill and let their bodies recover.
Many NFL players don't just sit on the couch all day. Instead they typically watch some tape and get in a light workout to keep their body moving and responsive.
What Does A NFL Wednesday Practice Look Like?
Wednesday NFL practice typically involves an early morning conditioning and lifting session followed by a long afternoon practice field workout which includes walk-through, and a heavy emphasis on first and second down.
Wednesday is the most serious day of training in the NFL practice week and one of the longest. NFL athletes wake up and early and report to the gym for a morning weightlifting workout. NFL players then report to a series of meetings where the coaches breakdown the new game plan for the upcoming game.
NFL players then hit the practice field where offense and defense go through first and second down options. The starting team will get in lots of live reps against the practice team. Special teams will also spend a lot of time on punting and setting up the correct blocking scheme.
What Does A NFL Thursday Practice Look Like?
A Thursday NFL practice features long on field sessions where NFL players focus on 3rd down and kickoff and kick return. NFL starters will spend hours competing against the practice squad and fine tune their ability to convert on 3rd down.
Thursday is an incredibly important NFL practice day as the team focuses on converting 3rd down which is one of the most important aspects of football. NFL teams that have a high 3rd down conversion rate typically win games.
The day will start with meetings where the coaches breakdown 3rd down strategy. Then NFL players will hit the field and compete against the practice squad in a variety of 3rd down scenarios such as 3rd and short, medium and long.
While the defense and offense are working hard special teams will be fine tuning their kickoff and kickoff return.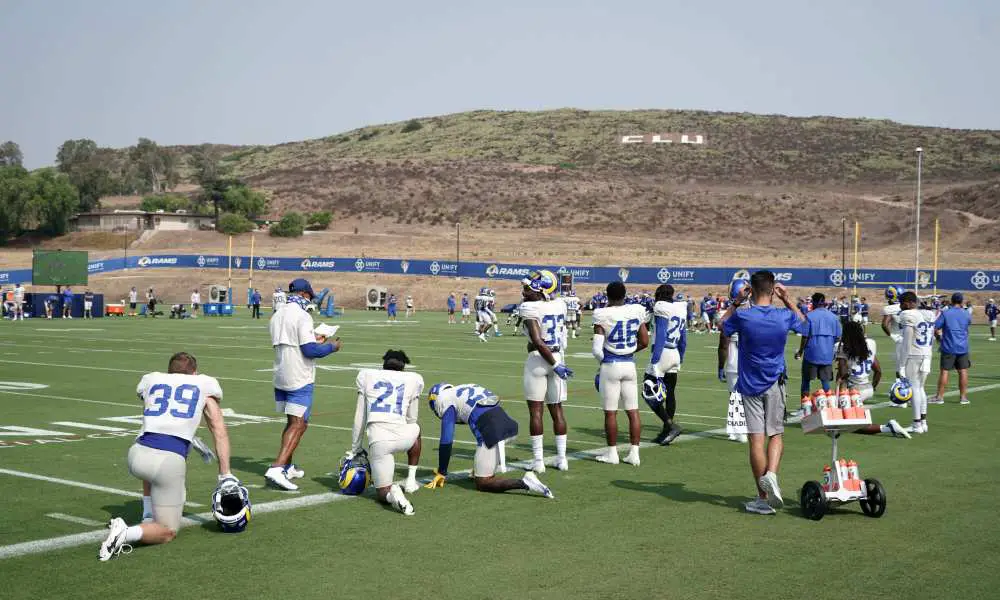 What Does A NFL Friday Practice Look Like?
During NFL Friday practices players focus on red-zone scenarios and goal line scenarios. NFL Friday practices are shorter and wrap up by early afternoon.
Friday is a very important NFL practice day because if you can't convert your red-zone opportunities it is going to be very hard to score touchdowns!
During Friday NFL practice both defense and offense will compete against the practice squad in a range of different red-zone and goal line scenarios. On Fridays NFL athletes also run through 2 minute drills.
The goal of NFL Friday practices is limit mistakes and be competing at a high intensity while sticking to the game plan!
What Does A NFL Saturday Practice Look Like?
A NFL Saturday practice includes a short non-contact walk through where players run through the entire game play. This walk through lasts around 1 hour and then players get ready to travel to the Sunday game.
NFL players attend early morning meetings on Saturday where the coaches go over the final game plan and highlight key focuses. Then players get out on the field in just shorts and jerseys and walk through all of the plays and scenarios. The walk through only lasts around 1 hour and then NFL players regroup and get ready to travel to the Sunday game.
How Many Hours Do NFL Players Practice A Day?
A typical NFL training sessions lasts for 2 hours. During the season NFL players usually only train once a day (except Wednesdays) but they also spend 1 to 2 hours per day in meetings, going over plays and reviewing tape.
While NFL players may not spend 6 hours a day out on the practice field in helmets and pads they do spend a lot of time at the training facility doing conditioning workouts, lifting weights, receiving treatment, meetings, tape review and of course on field sessions.
A typical NFL training practice goes something like this:
9-11 am – Conditioning and weightlifting workout
12-2pm – Meetings, review tape, go over game plan
3-5pm – On field training session going live against the practice squad
How Many Days Off Do NFL Players Get?
The NFL collective bargaining agreement mandates that NFL players must receive a minimum of one day off each week. The NFL day off is typically Tuesday, however many players will do their own personal workouts.
NFL players are entitled to a minimum of 1 day off per week. NFL teams typically schedule the day off on a Tuesday. During Tuesday NFL coaches will come up with the game plan for the next day and NFL players are not required to perform any workout or attend the training facility.
While there is no schedule workout on a Tuesday many NFL athletes will use the day for an active recovery and get in a light workout to ensure their body doesn't become stiff or sore.
Wrapping Things Up
So there you have it NFL players typically train everyday except Tuesday and when you include on field training sessions, meetings, treatment and conditioning workouts they spend 6 hours or more at the training facility per day.