We all know NFL players are pulling in huge salaries with the top players earning over $30 million per year! But what about coaches? An NFL can't succeed without a a head coach calling the plays, designing the formations and picking a strategy. So surely they must be earning millions too? Let's find out!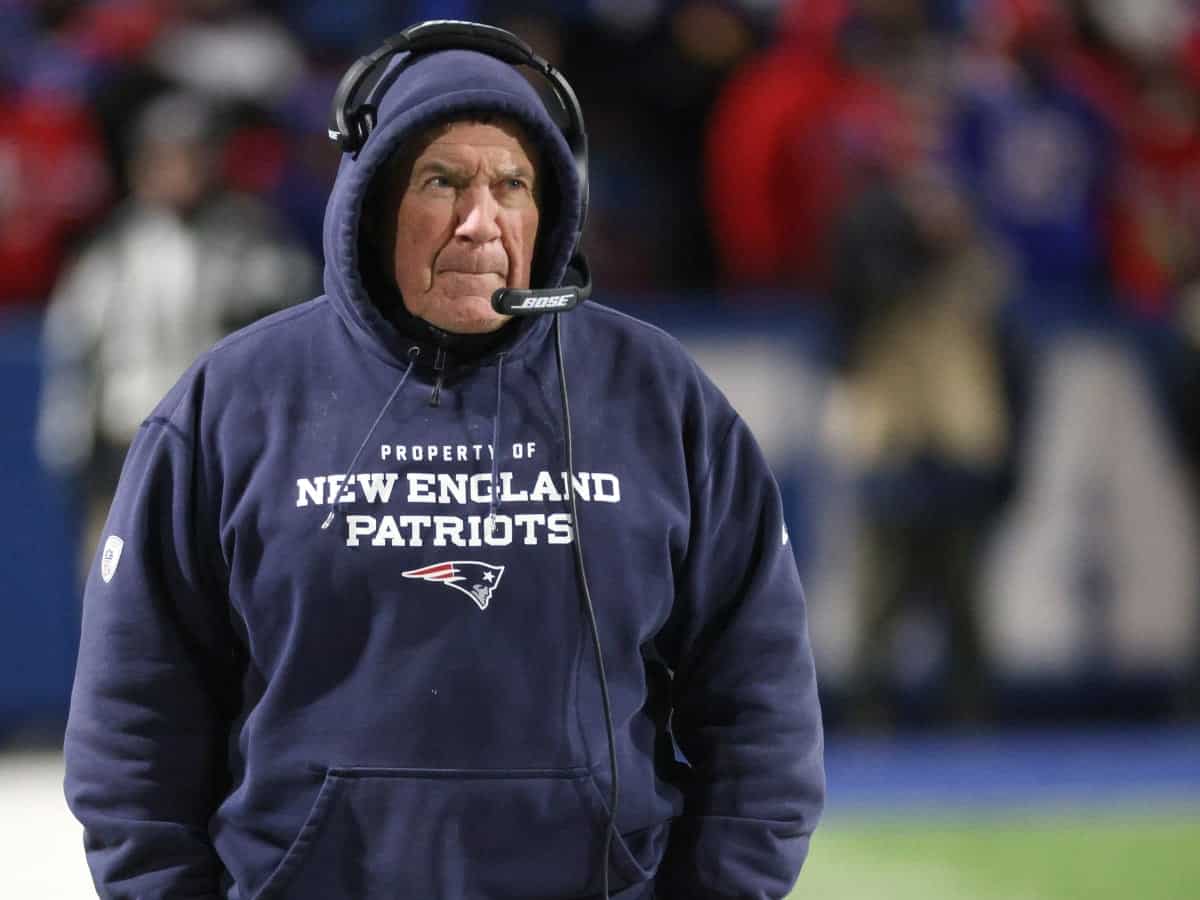 How much do NFL coaches get paid? The average NFL coach gets paid $6.5 million per year. The highest paid coach is Bill Belichick who earns $12.5 million per year. Dan Quinn is lowest paid NFL coach and earns $4.5 million per year. 
While NFL coaches are earning millions they don't earn anything close to the star players. Patrick Mahomes (QB for Bills) is pulling in $45 million per year while his boss, head coach Sean McDermott is earning $8 million. Don't feel too sorry for these NFL coaches their big salaries still allow them to live a life of luxury!
Who Is The Lowest Paid NFL Coach?
The lowest paid NFL coach is Atlanta Falcons' head coach Dan Quinn who earns $4.5 million. This may seem like a lot of money but is almost 3 times less than Belichick's $12.5 million salary. Quinn's salary is also 30% lower than the NFL average ($6.5 million).
In the NFL coaching ranks making $4.5 million per year puts you dead last. Most people would dream of making such cash but being an NFL head coach is an elite position and with it comes an elite salary.
Who Is The Highest Paid Coach In The NFL?
The highest paid coach in the NFL is Bill Belichick who earns $12.5 million per year. NFL fans can't argue he doesn't deserve after leading the New England Patriots to 6 Super Bowl titles. Pete Carroll the head coach of the Seattle Seahawks is just behind, earning $11.5 million per year.
The top NFL head coaches earn some serious money. At $1 million per month, Bill Belichick is earning a great living managing the New England Patriots. He has put that money to good, spending over $10 million to create a compound in Nantucket.
How Much Do NFL Offensive and Defensive Coordinators Make?
NFL offensive and defensive coordinators make on average $1 million per year. Pat Shurmur was the highest paid coordinator in the NFL earning $6 million per year before he was fired. Josh McDaniels was earning $4 million per year before becoming the Raiders head coach.
NFL coordinators play an extremely important role in helping the head coach design playbooks and build their roster. They also organize training and help players improve their skills. Many NFL coordinators are also in charge of calling plays during a game. Due to the importance of their role they are paid millions and the top NFL coordinators can earn as much as some NFL head coaches.
Why Do NFL Coaches Get Paid So Much?
NFL coaches get paid so much because their decisions on which players to sign and release, the contents of the playbook, which plays to call and what strategy to follow significantly impact the outcome of the game. An NFL team can't succeed with out a top coach and that is why they are paid millions!
When is the last time you saw an NFL win a Super Bowl with a terrible coach? It doesn't happen! Coaches are tasked with assembling a high quality roster. Without a coach actively signing, drafting, trading and releasing players an NFL team would never have enough talent to win.
Coaches also need to come up with specific strategies on how to beat their rivals. NFL coaches spend hours analyzing film and coming up with strategies that will give them an edge. If an NFL team just ran out onto the field and hoped for the best they would not win a single match.
NFL coaches also have to design the playbook and call the plays during a game. It doesn't matter how talented an NFL roster is if the coach is calling the wrong plays they will lose. The best NFL coaches are able to design defensive plays that are impossible to crack while at the same time come up with ingenious offensive plays that almost guarantee a first down! Due to an NFL coach's huge impact on the outcome of a game they deserve the millions they receive!
The Top 8 Highest Paid NFL Coaches
1. BILL BELICHICK (NEW ENGLAND PATRIOTS)
Annual Salary: $12.5 million
Bill Belichick – New England Patriots
Bill Belichick is the greatest head coach in NFL history. The hoodie wearing wild man has led the New England Patriots to an astonishing 6 Super Bowl titles! So it is no wonder he is earning the big bucks. It is rumored that Belichick actually earns more than his official $12.5 million salary thanks to under the table deals.
2. PETE CARROLL (SEATTLE SEAHAWKS)
Annual Salary: $11.5 million.
Pete Carroll – Seattle Seahawks
If you win a Super Bowl you deserve to make serious cash! And that is exactly what Pete Carroll did when he led the Seahawks to victory over the Denver Broncos in 2014. Pete Carroll is still resting on his laurels and pulling in $11.5 per year.
3. JON GRUDEN (LAS VEGAS RAIDERS)
Annual Salary: $10 million.
Jon Gruden – Las Vegas Raiders
Jon Gruden is a legendary coach who has spent 15 seasons in the NFL in a variety of coaching roles. Gruden pulled in a massive $10 million salary thanks to his Super Bowl win with the Tampa Bay Buccaneers and his previous time spent coaching the Oakland Raiders.
4. SEAN PAYTON (NEW ORLEANS SAINTS)
Annual Salary: $9.8 million.
Sean Payton – New Orleans Saints
Are you noticing any trends among these high salaried NFL coaches? They all have won a Super Bowl title! Sean Payton is another legendary coach who formed amazing relationship with quarterback Drew Brees. The duo managed to capture a bunch of regional titles and a Super Bowl ring.
5. JOHN HARBAUGH (BALTIMORE RAVENS)
Annual Salary: $9 million.
John Harbaugh – Baltimore Ravens
John Harbaugh is one of the most intense coaches in the whole of the NFL. But it isn't just his intensity that has led to him earning $9 million per year. Harbaugh continues to lead the Ravens to the playoffs year after year.
6. MATT RHULE (CAROLINA PANTHERS)
Annual Salary: $8.5 million.
Matt Rhule – Carolina Panthers
Matt Rhule is one of the youngest coaches in the NFL at 47. The Panthers decided to take a bit of a risk by hiring him in 2020 as Rhule had never coached an NFL team before. He will have to greatly improve his team if he wants to keep his job as the Panthers only managed to win 5 games in 2021.
7. SEAN MCVAY (LOS ANGELES RAMS)
Annual Salary: $8.5 million.
Sean McVay – Los Angeles Rams
Sean McVay is the youngest coach in the NFL at just 36. Amazingly, he was only 30 when signed on to become the LA Rams head coach back in 2017. McVay is due for a pay bump after leading to the Rams to the Super Bowl in 2019 and 2022.
8. MIKE TOMLIN (PITTSBURGH STEELERS)
Annual Salary: $8 million.
Mike Tomlin – Pittsburgh Steelers
All you have to do to earn $8 million per year is lead an NFL team to a Super Bowl. Need proof? Just ask Mike Tomlin. Mike Tomlin led the Pittsburgh Steelers to victory in 2009 when they beat the Arizona Cardinals. He also led the Steelers to 2 AFC Championships and 9 playoff runs!
Wrapping Up
The average NFL coach's salary is $6.5 million per year. The lowest paid coach is Dan Quinn (Atlanta Falcons) who makes $4.5 million per year while the highest earner is Bill Belichick (New England Patriots) at $12.5 million per year.