Can Rugby Players Become Good American Football Players?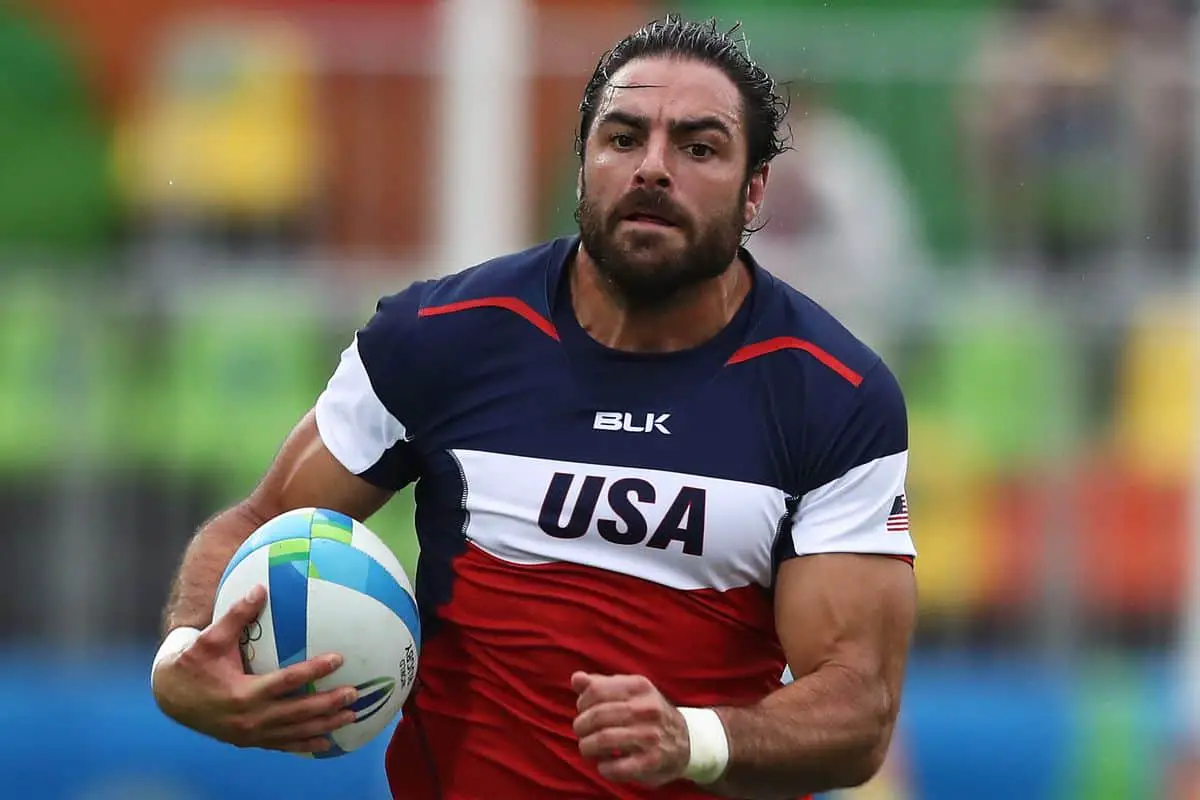 In recent years there has been a lot of hype about rugby players switching to American football and attempting to make it in the NFL. Some critics say they have no chance due to American football's different rules while others think based on their unique skills and athletic talent they can make an NFL roster. Let's do a deep dive into whether or not rugby players have what it takes to thrive in American football.
Can Rugby Players Play American Football?
Rugby players can play American football as many of the athletic requirements between the two sports are similar (speed, hand eye coordination, power and strength). Rugby players are also particularly good at kicking and can be great kickers and punters.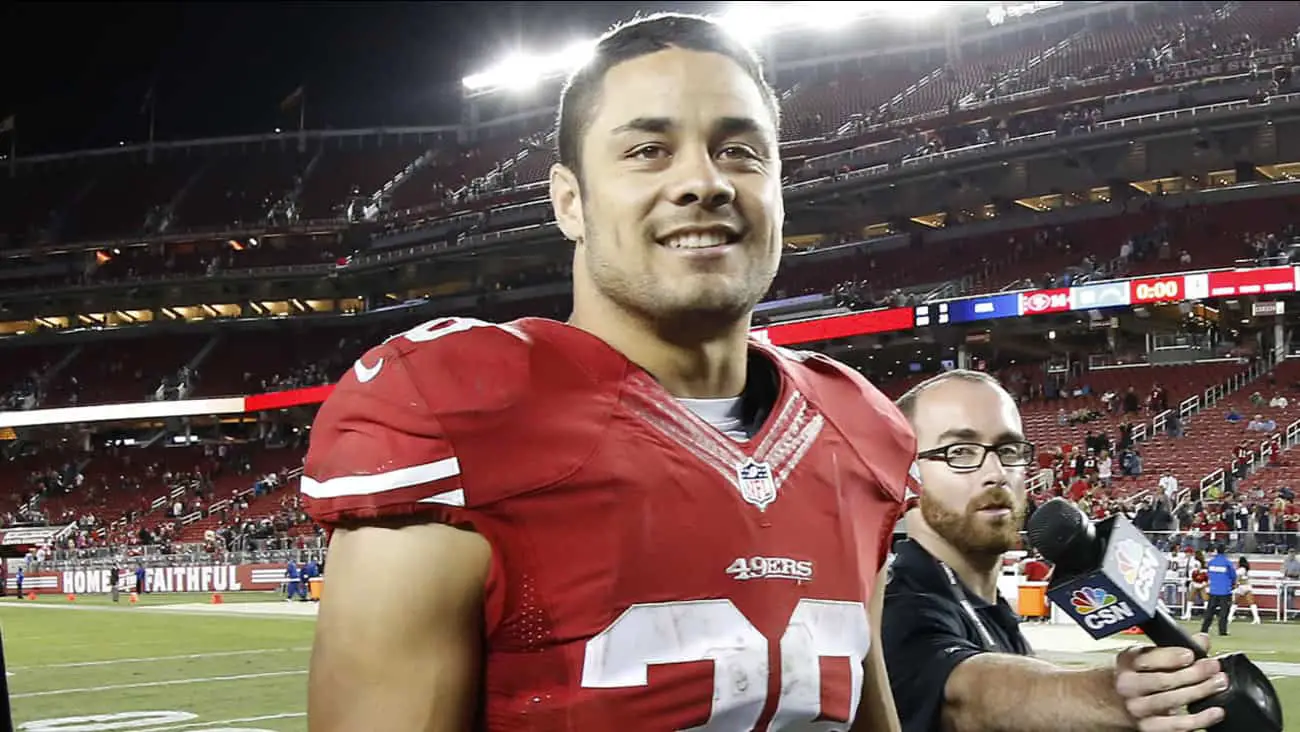 American football and rugby have some drastically different rules and American football has some incredibly specialized positions such as quarterback and offensive tackle which have no equivalent in rugby.Due to these two factors rugby players have a difficult time transitioning to American football.
The rugby players that do the best at American football have freakish athletic ability combined with enormous size. There are very few people in the world who are over 6ft4, weigh over 250 pounds and have incredible strength and explosiveness. This is why NFL scouts are always willing to look at rugby players that meet these requirements.
Jordan Mailata who is the current offensive tackle for the Philadelphia Eagles fits this bill perfectly as he stands at 6ft8 and weighs 365 pounds. He also has a 5.12 40 yard dash, can bench press 220 pounds 22 times and run the shuttle in 4.67 seconds. This size combined with this level of athleticism is incredibly rare and has led to him becoming a star in the NFL.
Other former rugby players who have also managed to carve out successful NFL careers include Haloti Ngata (6ft4 and 340 pounds, 37 reps of 220 pounds on bench press, 5.12 40 yard dash and 9ft 2 inches broad jump) and Isaac Sopoaga (6ft2 and 330 pounds, 42 reps of 220 pounds on bench press, 4.97 40 yard dash and 8ft 3 inches broad jump).
It is incredibly difficult for rugby players to switch to American football and have success playing positions such as running back or wide receiver. Even though there is crossover in skills there are so many American football players who have been playing the game since they were kids and have the ideal frame and athleticism. The competition is just too high and rugby players don't have enough physical talent to make up for the lack of experience playing American football.
The competition is much lower for defensive and offensive line spots because such a tiny percentage of world's population have the size and athleticism necessary to play. This is also combined with the fact that the skills involved are not very complex and can be learned within a few years.
If rugby players continue to switch to American football it is on the defensive and offensive line where they will have long term success.
What Positions Can Rugby Players Play In American Football?
The positions that rugby players typically have the most success at in American football is linebacker, running back, punt and kick off returner, punter and kicker. The skills needed to excel in these positions are also found in rugby.
For example punting the ball down the field and taking place kicks for goal is a common occurrence in rugby. Also rugby players are known for being very strong tacklers which makes linebacker a good fit.
A number of rugby players are also gifted ball runners and have amazing speed combined with lethal jukes and stiff arms. However, rugby players have to adapt to running with helmets and pads, running through gaps established by blockers and holding the ball extra tight to prevent fumbles.
Jarryd Hayne (an Australian rugby legend who played 8 games for the 49ers in 2015 as a running back and as a returner) found this out the hard way. Even though Hayne made some spectacular runs he carried the ball a little loose into contact which resulted in a few fumbles.
Hayne managed to make the 49ers 53 man roster but decided to leave the team as he was not happy in a back up role and wanted to return to rugby where he was a superstar.
Christian Wade is another former rugby player who is trying to make a career in the NFL as a running back. Wade was previously a successful rugby winger who played for the Wasps in England's top rugby competition. Wade is known for being incredibly quick and has run the 100m in just over 10 seconds.
However, Wade's rugby success has not exactly translated to success on the NFL gridiron. Wade has spent two seasons with the Buffalo Bills but is still stuck in the practice squad and has not been able to get into the starting lineup and see much game time. The Bills see some potential in Wade and have signed him to a 3rd NFL season.
Surprisingly the most successful rugby player to make it in the NFL hasn't been a running back, linebacker or punter but an offensive tackle!
Jordan Mailata, an Australian rugby player of Samoan heritage is the starting offensive tackler for the Philadelphia Eagles. In 2021, Mailata signed a 4 year contract with the Eagles worth over $60 million with $40 million guaranteed. This is by far the biggest contract ever signed by a rugby player in the NFL.
Amazingly Mailata had never played a single down of American football before he joined the NFL's international pathway program. Standing at 6ft8 and weighing 365 pounds, Mailata impressed NFL scouts with his size and athletic ability. It didn't take long for Mailata to learn the game and just 2 years later he was the starter for the Philadelphia Eagles.
Are There Any Former Rugby Players In The NFL?
Nate Ebner, Jordan Mailata and Christian Wade are three former rugby players who are in the NFL. Many of other former rugby players have played in the NFL such as Stephen Paea, Haloti Ngata, Jarryd Hayne and Isa'ako "Isaac" Sopoaga.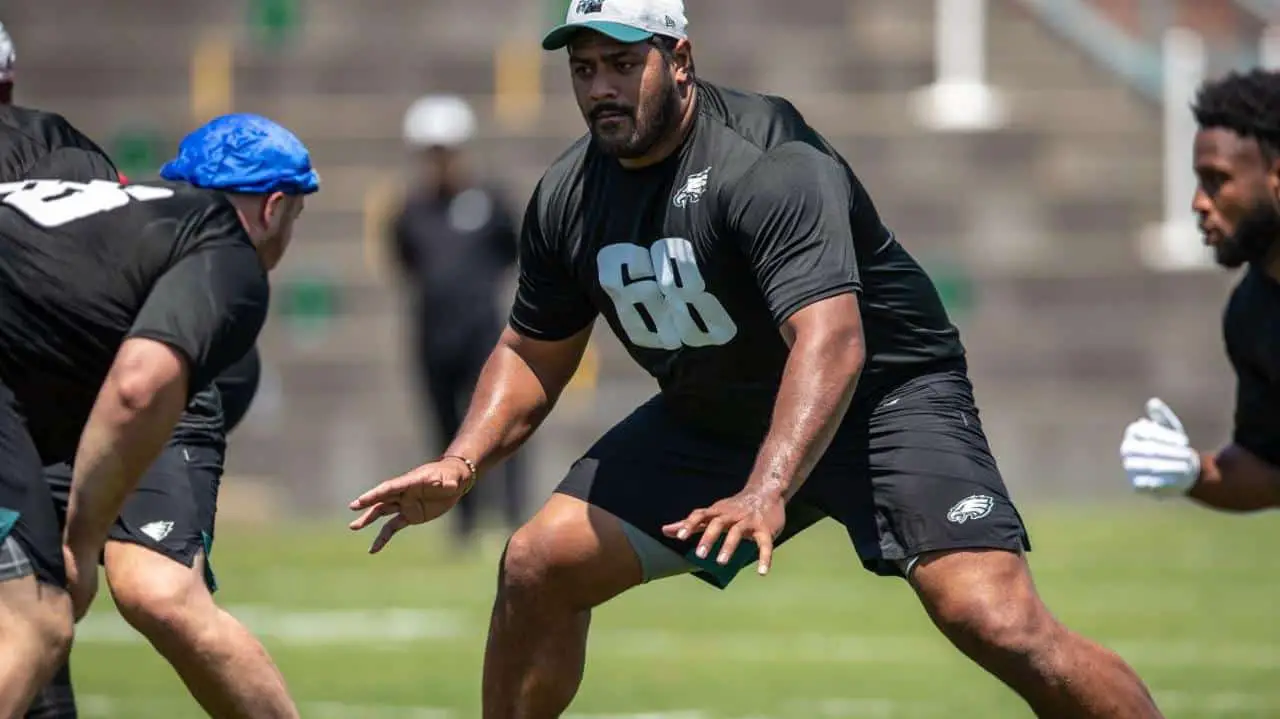 There have been numerous rugby players who have tried their luck in the NFL over the years. However, only a few have gone onto to have long careers and become starters. The most successful have been pacific islander players such asStephen Paea, Haloti Ngata, and Isa'ako "Isaac" Sopoaga who managed to convert their amazing natural athletic prowess into long and lucrative NFL careers.
The most successful current NFL player who comes from a rugby background is Jordan Mailata. Mailata grew up playing rugby league in Sydney, Australia but failed to make it in the professional ranks due to concerns over his enormous size. However, as American football is not as cardio intensive as rugby his size proved to be a major asset and led to him winning the starting offensive tackle spot for the Philadelphia Eagles.