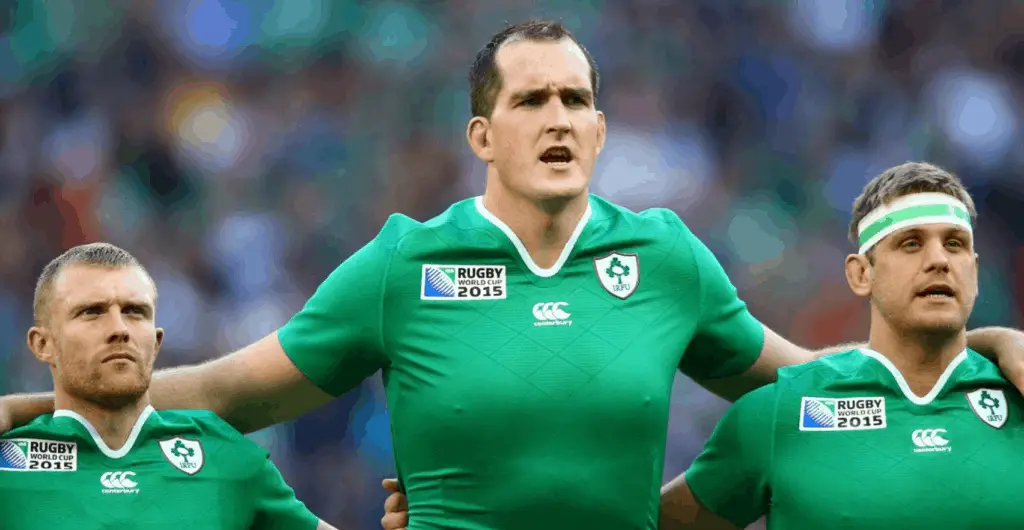 There are definitely some rugby players of giraffe proportions running around rugby pitches. Is this the norm or are these giants an aberration? It's time to do a deep dive into just how tall and heavy rugby players really are.
Are rugby players tall?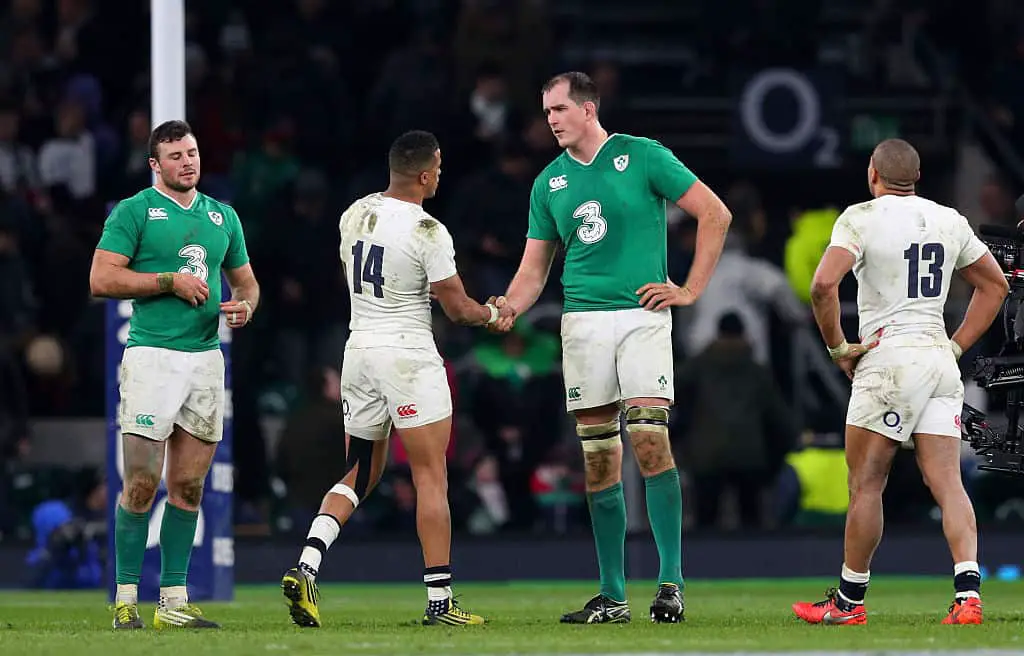 Rugby players are tall with the average player standing at 6ft 1.5 (187cm) which is substantially taller than the average American who stands at 5ft 9 (175cm). There is a big variance in rugby players' height based on position with halfbacks on average standing at 5ft 9 while locks on average standing at 6ft 6.
How tall a rugby player is depends greatly on their position as certain positions require great deals of height such as locks while in other positions such as halfback height is actually a detriment. 
On the whole rugby players are still much taller than the average man as they need to be big and strong to handle the tough contact of the sport. The taller you are the more muscle you can put onto your frame. However, by looking at the average heights of different positions there does appear to an optimum height for each position.
Halfbacks are on average the smallest players on the rugby pitch with an average height of 5ft 9. Halfbacks have to constantly bend and squat down low to pick up and pass the ball from the base of the ruck. By being built closer to the ground it makes their job easier and they are able to give quickly delivery to their flyhalf. You wouldn't want to be 6ft 8 and a halfback it would take you an eternity to get down low enough to grab a hold of the ball.
Interestingly apart from halfbacks the rest of the backline have the same average height, standing at 6ft. Backs tend to range in height from 5ft 10 to 6ft 2, with the occasional outlier. By being 6ft, backs have the perfect balance of being big and strong but still retaining their speed and explosiveness that they need for bursting runs and scrambling cover defence. 
Unlike the backline there is a large amount of variation in the average height of the forward pack.
The average prop and hooker both are 6ft tall. The front row needs to be heavy but also have a low centre of gravity so they can turn themselves into an immovable object during scrum time. 6ft seems to be the perfect height if you want to master the dark arts of scrummaging.
The average flanker is 6ft 3 with openside flankers being slightly shorter at 6ft 1 and opensides being slightly taller at 6ft 4. Openside flankers are more on the ball forcing turnovers at the breakdown. To force these turnovers they need to get very low to the ground while supporting their own body weight. Too much height would limit this ability. Michael Hooper is an example of this, standing at 5ft 11 Hooper is one of the best in the world at creating turnovers at the breakdown.
Blindside flankers tend to be a bit more similar to number 8s and their role is to be a hard ball runner and a rock in defence. A bit of extra height allows blindsides to build the big frames they need to handle the constant contact. As there is a lot of crossover between the roles of number 8s and blindsides it is no wonder that number 8s also have an average height of 6ft 4.
Locks are by far the tallest players on the rugby field. The average lock is 6ft 7 which is similar to the average height in the NBA. These giants rely on their to secure possession during the lineout for their side. Their height also ensures that they will be tough ball runners and strike fear into opposing players at the breakdown. No one wants a 6ft 7 giant crashing into them while they are crouched over a breakdown.
Are Rugby Players Fat?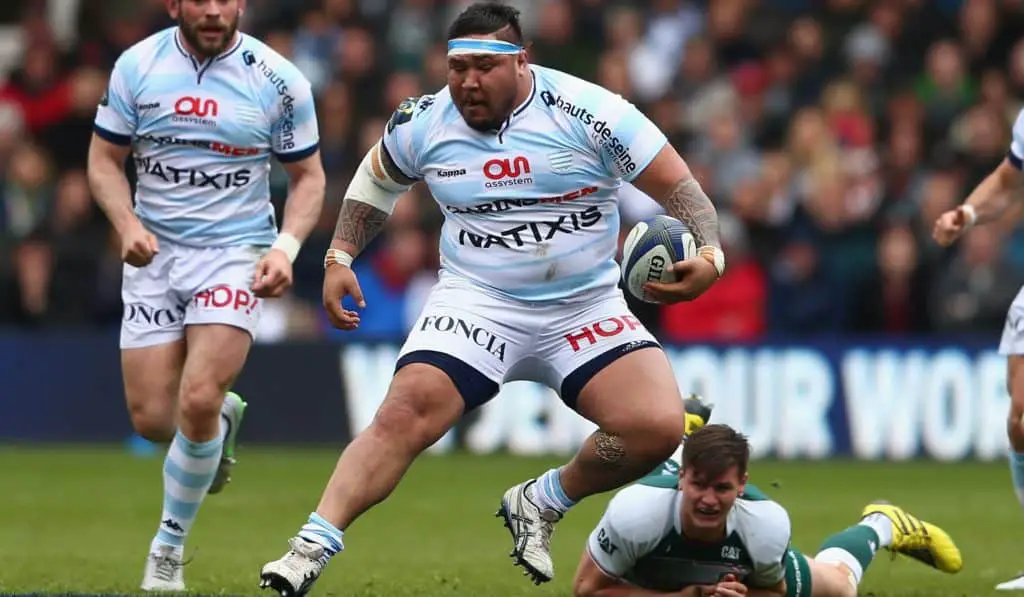 Rugby players are not fat. Backs tend to be lean with visible abs and body fat percentages below 15%. The majority of forwards tend to have a below average body fat percentage in the 14-18% range. Only props and hookers can be considered fat as they typically have body fat percentages above 20%.
There is a false stereotype that rugby players are fat. There are typically only 3 players on the rugby field who are carrying extra fat and they are always the two props and the hookers. These players need this extra padding so they can effectively scrum, as the extra weight lowers their centre of gravity and gives them the ability to generate a large amount of force. The front row are Sumo wrestlers of rugby.
The rest of the forwards tend to have respectable body fat percentages, well below the average male in the 14-18% range. At this body fat percentage rugby forwards can still show of their muscles and some will have visible abs.
The backline tends to have low body fat percentages. Many backs have the male fitness body lock with defined and shredded muscles and a clear 6 pack. Backs' body fat percentage tends to range from 8% to 15%.
What Is The Average Weight Of A Rugby Players?
The average rugby player weighs 100kg (220 pounds) which is a lot heavier than the average American who weighs 86kg (190 pounds). Rugby players use this extra weight to help them break tackles and bring down charging attackers. Players' weights are influenced by their position with halfbacks weighing 83kg (183 pounds) and props weighing 118kg (260 pounds).
Just like a rugby player's height depends on his position and role so does his weight.
Halfbacks are the lightest players with an average weight of 83kg. As halfbacks run the most of any player during a match it makes sense that they wouldn't want to be carrying any extra.
Flyhalves are the next lightest players with an average weight of 90kg. Flyhalves like halfbacks do a lot of running throughout a match and need to be agile, however they need a bit more bulk than halfbacks as they have to stand and make tackles in the defensive line.
The rest of the backline tend to be of similar weights, tipping the scales at 93kg. The extra bulk compared to flyhalves allows them to be more effective tackling and gives them a greater chance at bumping off would be tacklers during their charging runs.
The forwards tend to have a greater range of average weights than the backline as their roles tend to be quite different.
Props are the heaviest players on the pitch with an impressive average weight of 118kg. Their hooker brothers tend to be a bit lighter weighing in at 108kg. Hookers need to be a bit more versatile than their less refined prop brothers, so a small reduction in weight allows them to get around the pitch with greater mobility.
Locks are the second heaviest players on the field with an average weight of 115kg. They may have a similar weight to props but they look very different as they can still look a bit lanky due to the difficulty in filling out their NBA esque frame.
The loose forwards tend to be of similar weight with an average of 108kg. Number 8s and blindsides tend to be a bit heavier than the opensides due to the former playing a battering ram role in attack.
Are Rugby Players Getting Bigger?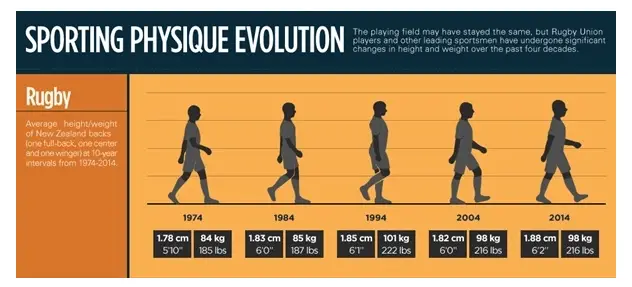 Rugby players are getting bigger. In 1974, the average rugby player was 5ft 10 and weighed 84kg (185 pounds). In 1984, the average player was 6ft and weighed 87kg (191 pounds). Currently, rugby players are 6ft 1.5 (187cm) and weigh 100kg (220 pounds).
Conclusion
The average rugby player is 6ft 1.5 which is much taller than the average American who is 5ft 9. Not only are rugby players tall but they are also heavy with an average weight of 220 pounds (100kg) which is considerably larger than the average American weight of 190 pounds (86). Don't be fooled by their big weights into thinking rugby players are fat. The majority of those extra pounds are muscle with many players looking like Greek Gods.